Part of the fun of covering cool vintage neon and other signage is the inspiration it gives to artists. I have found lots of great artwork on Zazzle since my move there. I have decided to feature some of this great artwork on my blog.
This sometimes blog series called Saturday Signage includes three retro neon themed designs from my fellow Zazzlers. First is Santa Monica Pier which combines the colorful neon decorating the historic pier and also ties back to my local Los Angeles theme. Second, Frolic Room depicts the sign from the historic Frolic Room in Hollywood.
Enjoy!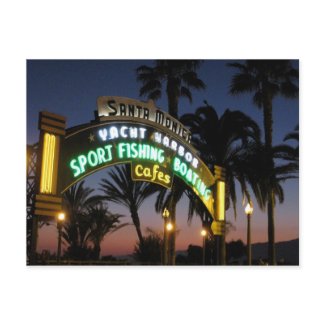 Santa Monica Pier postcard
by
jessilica04
Browse more
Santa monica Postcards
---

From the series Streets and Boulevards of Los Angeles at
Sidewalk Talk on Sundays


About Saturday Signage: This art blog series is meant to highlight the fun of vintage advertising signs and the art creations they inspire. I welcome your comments and suggestions.