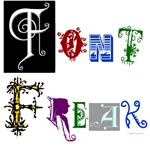 Here's my newest design for my
AngelCityArt Store
.
This design uses some of my favorite fonts. I love old lettering. I've collected many fonts in my Suitcase, and now I am bringing them out for the world to appreciate.
Font Freak uses several unique fonts; gothic, art deco, classic and destroyed lettering. One is based on a 17th Century illuminated manuscript.
I used a pattern of white blocks behind each letter so they will stand out and reveal the pattern on black t-shirts.